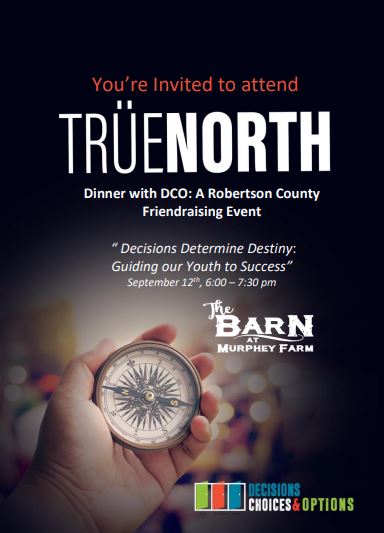 We're so excited to invite you to our Robertson County Friendraising Event!
Decisions, Choices & Options (DCO) has provided primary prevention sexual risk avoidance educational programs to the schools of Robertson County since 2005. Come hear about the impact this powerful program has in the lives of our youth! Hear from local classroom teachers about why DCO is so important to the health, success and future of our youth. Learn how you can get involved.
For more information and to RSVP, please email or call Pam Garrett, Development Director at pgarrettdco@gmail.com or 615-400-1047
Catering by Pamela's Parties, Pam Johnson
No charge to attend. Open table seating.
Event Sponsored by:
3243 Gause Road Pleasant View, TN 37146
Directions:
From Memorial Blvd. in Springfield, TN:
Turn left onto 5th Ave/TN-49. Continue following TN-49
5.5 miles and turn right onto Sandy Springs Rd.
Continue for about 4 miles then make a slight right onto Gause Rd,
Continue for about 3/4 mile. The destination is on the left.